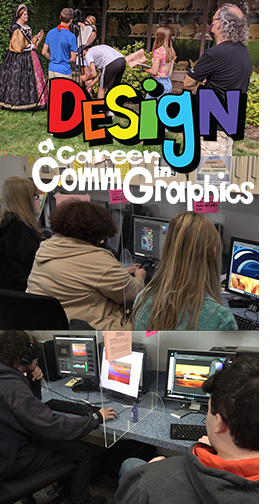 This KTEC hands-on course is intended to provide students with industry skills in design, print, and visual media. Through community collaboration, students work with various clients and professionals that help prepare them for a future in the communication industry.  Clients have included, Lake City Playhouse, Stage Left Theater, Spokane Renaissance Faire, and Spokane Youth Ballet.  This course is for Juniors and/or Seniors who have an interest in design, computer, and/or photography and are interested in creating a portfolio and job skills.  College credit and various Adobe Creative Cloud Certifications are also available. See your counselor for an application or contact Instructor Lena Cooley at lcooley@cdaschools.org
View some of our students' work at the following site:
Here is what some of our community connections have had to say:
"The audio and video editing that these students did for my virtual play production was the quality I would expect from industry professionals! They eagerly brought their own creative ideas to the project, were willing to learn new skills to enhance the quality, and the final product far exceeded my expectations! I was proud to tell my community that KTEC students did the editing for Mt. Spokane High School theatre's first-ever virtual play production, It's A Wonderful Life!"
- Jessica Rempel
Mt. Spokane High School
Theatre Director
"Rarely have we been as pleased with graphic design work as we have been with the work from the students at The Print Shop. From creativity to turn-around times, this group of future designers always delivers."
- Jeremy Whittington
Stage Left Theater
Managing/Artistic Director
"They were amazing to work with filming. And this work they do is just inspiring.
- Robert Tombari
Stage Left Board of Directors
Vice President